Original Vintage 1992 Grateful Dead Motorcycle Accessory!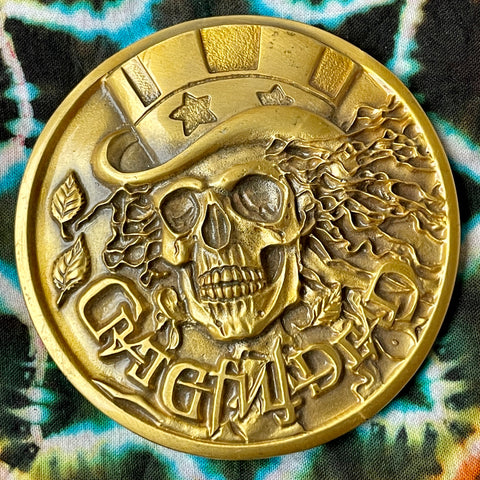 🔥FOR SALE!!🔥Original Vintage 1992 Grateful Dead Motorcycle Accessory! These were made in 1991/1992 by Grateful Dead Merchandise with input from long time roadie/crew Ramrod who was President of GDP.. They were planning on making these for sale via GDM. These were most likely intended to be part of a derby or timing cover kit for a Harley Davidson. They didn't make it to production market but some of them remained within the GD Family & Ramrods personal collection ... they became collection items over the years. The one I'm letting go was part of Ramrods collection! It measures 3 1/4 inches! It's extremely well made and heavy metal brass!
.
.
See attached photos where over the years band members have used these medallions to put on their equipment. 
Mickey has one on his beam!, Bobby has one on his rig and Billy has one currently on his drum kit while on tour with Dead and Company! See photos attached!
.
.
This is a highly collectible item from Ramrods collection!!🌹⚡️💀

👉👉Please NOTE!! - If you need a payment plan on any item you can select Shop Pay and then follow prompts to Shop Pay Installments!
---
More from this collection